The North Coast Branch of the American Society of Civil Engineers released a new 2016 Report Card for Humboldt County's Water Infrastructure to show the state of the water infrastructure across Humboldt County. The report found that today's water infrastructure earned a good B grade overall, but to keep a good grade, planning must begin today for the infrastructure that is aging and will need replacement over the next 10 years. They released the Report Card at the Humboldt Bay Municipal Water facility with representatives from the Municipal Water District, McKinleyville Community Services District Board of Directors, Bear River Band of the Rohnerville Rancheria, and the Loleta Community Services District. This effort follows the release of the Report Card for Humboldt County's Transportation Infrastructure  in 2014 which reviewed the area's transportation needs. Together, these reports provide citizens a clear look at today's challenges and tomorrow's needs.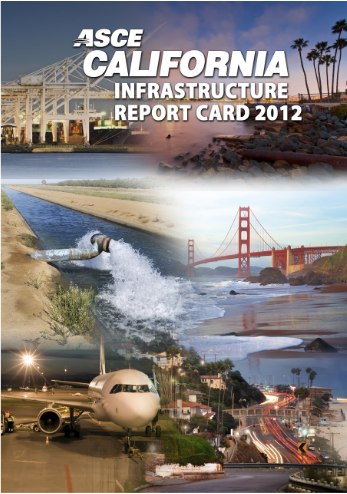 The magnificent Golden Gate and San Diego–Coronado bridges; the Hoover, the Grand Coulee and other great dams and water systems of the west; our transcontinental railroads and unparalleled network of modern interstates; the airports, seaports, tunnels and transit systems that serve our cities—all of these are part of the California infrastructure.
Over the next 20 years, California is expected to grow at a rapid pace. Based on some estimates the state will add an additional 10 million residents over the next 20 years,putting California's population at a staggering 48 million people. A well-designed and maintained infrastructure anchors our economy and secures our quality of life.
Investment in infrastructure is vital to our state's productivity, competitiveness and economic well-being.Congestion on our highways alone costs the United States an estimated $100 billion a year.Communities with efficient road systems, good schools and sewers can better attract residents and businesses. With updated water treatment plants, we can trust our tap water is safe. When traffic flows, goods and services move to market faster and more efficiently, lowering the cost to consumers. Modern school buildings provide a secure and healthy environment  where our children can concentrate on learning. Efficient waste management programs reduce waste volume, and dispose of and contain waste effectively.
Read the full Report Card for California's Infrastructure here.

Download the Report Card