February 7th, 2017 | By: Becky Moylan
As Tennessee's legislature and governor explore funding options for the state's transportation infrastructure, the Tennessee Section of ASCE was invited to present the
2016 Report Card for Tennessee's Infrastructure
to the
state's Senate Transportation and Safety Committee
. WBIR.com even named it as one of "
5 things to watch this week in the legislature
." On Monday, Feb. 6, Monica Sartain, PE and Lukas Slayer presented the Tennessee Report Card, which graded roads a C+, bridges a B, and transit a D+, but warns that without sustainable funding congestion will continue to rise and roads and bridges will deteriorate. Current funding is not keeping up with the needs, as an estimated $475 million is needed annually to maintain the current state of good repair on state-maintained roadways, and this number grows with inflation every year. Tennessee is unique in that it's one of only five states that is "pay-as-you-go" for transportation projects, meaning that the state takes on no debt for construction or maintenance. While this is a fiscally sound approach, it has made maintaining and improving the system challenging. In January, Gov. Haslam proposed the
IMPROVE Act,
"Improving Manufacturing, Public Roads and Opportunities for a Vibrant Economy," which would raise the state's gas tax by 7 cents a gallon and diesel by 12 cents a gallon, ultimately raising $278 million in new dollars and funding 962 projects across the state. The
Tennessee's Report Card's top recommendation
to improve the state's infrastructure was to "Find sustainable solutions that will help us build a transportation network for the future." The IMPROVE Act or another bill that would raise the state gas tax—last increased in 1989—is the most direct and immediate way to increase revenue to invest in transportation. ASCE will continue to encourage action this legislative session on the IMPROVE Act or another long-term sustainable funding solution.
Join in by emailing your Tennessee state legislators
.
September 27th, 2016 | By: Becky Moylan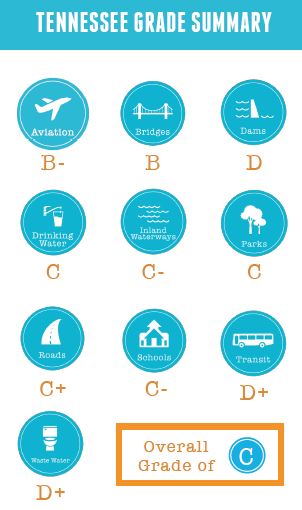 From Memphis to Nashville, Tennessee is known for its influence in music. The state's slogan boasts "America at its best." However, according to the release of today's
Report Card for Tennessee's Infrastructure
many infrastructure areas aren't at their best. The Report Card gave the state's infrastructure a "C" GPA. But that average grade will not cut it when it comes to the challenges to come from aging infrastructure and a growing population. The state needs increased investments, and long-term, sustainable funding plans if its infrastructure will live up to the "at its best" motto. The report gave dams the lowest grade of "D," in large part to the many unknowns of the state's farm pond dams. Bridges received the highest grade of "B," a testament to the focus on rehabilitating 193 state-owned structurally deficient bridges in recent years, along with the state's overall good bridge health. Explore the
full Report Card
and if you live in Tennessee,
share it with your elected leaders.
With Tennessee at a crossroads of a growing population and aging infrastructure, the state needs to prioritize investment and modernization.
February 14th, 2014 | By: America's Infrastructure Report Card
Several states are responding to the impending reality that this fall the Highway Trust Fund "
will have insufficient revenues to meet obligations
" unless a sustainable revenue source is found. Among those voicing concerns is
Tennessee
. As a precaution, TDOT prepared two 2015 budgets: one with federal funding, budgeting $1.8 billion and another without, budgeting $900 million.
Minnesota
also grappled with the
transportation funding gap
through a hearing that included testimony from ASCE's own Brian Pallasch, who
spoke on the consequences
of underinvestment. Delaware Gov. Markell proposed an increase to the gas tax that would be tied to inflation. Though it was met with criticism from the state legislature, this editorial aptly points out
highways don't pay for themselves
. Idaho's Transportation Department's Scott Stokes warned that the state relies heavily on federal funding for its department's budget. Stokes predicted "
At current funding levels [bridges] will have to last 120 years, two to three times their expected life
," given the current funding trajectory. Michigan is facing a
more immediate funding crisis
, due to the frequent snowfall. To put it into perspective, snowplows were needed on the southwest part of the state's roads for 67 straight days, a doubly costly endeavor because money is needed to fund the plowing and to repair the roads afterward.
The Daily Iowan
called to raise the state's gas tax in an
editorial
, explaining the "tax would generate $230 million annually, money that can be used to substantially upgrade Iowa's roadways and would close the state's $215 million annual shortfall in road funds." On the federal level, Ohio Reps. Tim Ryan and Dave Joyce, called upon their colleagues to
revitalize infrastructure
and create jobs in the process. The U.S. Senate Environment and Public Works Committee held a hearing Wednesday to consider the best funding options for the Highway Trust Fund. Sen. Boxer said her goal is to have a "
five- or six-year bill
." This week demonstrates the need for a sustainable funding source is gaining attention. Now the next step is finding a solution and taking action.
Tags: highway trust fund, Idaho, infrastructure, Iowa, Minnesota, Ohio, surface transportation, Tennessee, transportation
No Comments »